John Kelly: 1935 - 2022
Thursday, 17th November 2022
The staff and board of AHEAD would like to convey our sadness and deepest condolences to the family of Prof John Kelly upon his recent passing, and place on record our gratitude to him for the contribution he made to the organisation.
John was a crucial figure in the formation of AHEAD, originating in the late 1980s when he responded to student concerns as Registrar of University College Dublin (UCD) that not enough support was being provided for students with disabilities in UCD. John worked with students to form a university peer support group, which eventually developed into a national movement and over time, into the national independent NGO we are today. You can learn more about John's pivotal role in our history here.
John went on to become the first chair of AHEAD serving for more than twelve years, and remained a strong supporter of the organisation throughout his life.
Prof. John Kelly celebrates AHEAD's 30th birthday with the AHEAD team in 2018
In recognition of this pioneering work, AHEAD launched The John Kelly Award for Universal Design in Further and Higher Education in 2019, recognising the innovative practices in further and higher education which deliver a more inclusive learning experience for students. This year, UCD worked in partnership with AHEAD to revamp the awards and the ceremony was held in O'Reilly Hall on 17 October. Both AHEAD and UCD were delighted that John could address the audience in person.
Chair of AHEAD Prof Michael Shevlin noted:
"John was hugely instrumental in forging the path for inclusive practice in the higher education system here in Ireland. Both through his work with AHEAD at a national level, and his pivotal role in developing access and disability services in UCD, he has left a huge legacy and played an enormous role in opening the door to tertiary education for students with disabilities."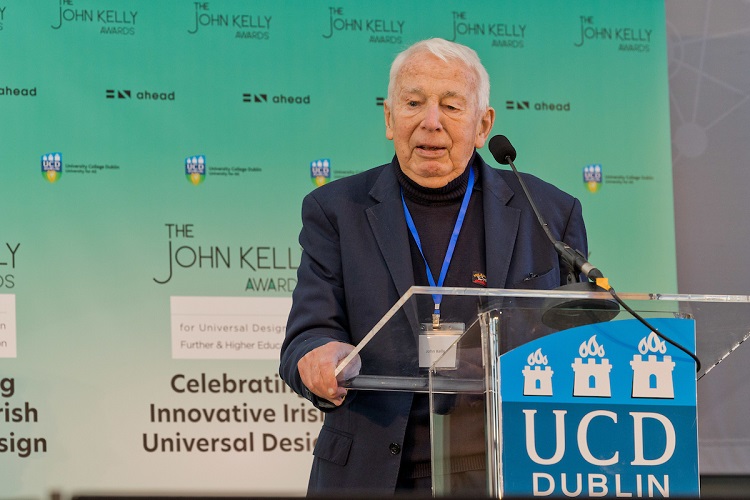 John Kelly addressing the crowd at the recent John Kelly Awards ceremony
Dara Ryder, CEO of AHEAD added:
"John was a man of immense vision, creativity and resourcefulness. He had this quality of believing that anybody could do almost anything given the right conditions, the right support, the right environment. And he instilled those ideas in both the students he worked with, and the organisations he helped develop - most definitely including AHEAD. His contribution was immense - it's safe to say without John, there would be no AHEAD."
Former Secretary of AHEAD Tina Lowe provided a reflection on her own interactions with John:
"I am writing this in remembrance of John Kelly who I met when I returned to education in University College Dublin after I lost my eyesight due to meningitis.

I attended UCD as a blind student and attained a Masters in Equality Studies. It was here that I learned about AHEAD and John Kelly. When John was the registrar of UCD, he helped develop Ahead with the idea that any person with a disability had the possibility to work and to be an equal. John was a trailblazer who created supports for people with disabilities in higher education when none existed.

He was a tour de force, and a pioneer with a great character. He had the ability to get things done and created a lot of ground-breaking ideas for people with disabilities.

John became a hero and mentor to me, and made me believe in myself for the first time since I lost my sight. He encouraged me to do all types of jobs with his help, his indisputable charisma and no-nonsense approach.

John's legacy to the world is that he instilled in each person with a disability he met with an inner strength and belief that they could study and work with an equality to all. John will always be remembered as a pioneer in higher education, a maverick, and a friend, may he rest in peace."
Finally, former Executive Director of AHEAD Ann Heelan, who worked closely with John in his time as chair added:
"Prof John Kelly had a sense of fair play, a deep integrity and a disarming charm that made people sit up and listen. He managed to pull off more changes to education policies that opened doors to students with disabilities across the sector than anyone else I know of."
The board and staff of AHEAD shares its sympathies with John's wife, Nora and children James, Mary Louise (Merlo), Michael, and John (Johnny). He will be sorely missed by all who knew him.