Our Story: 30 Years of AHEAD
In 2018, AHEAD celebrated 30 years of shaping a future where students with disabilities can succeed. The origins of the organisation start in University College Dublin in 1988 when Registrar Prof. John Kelly decided to do something about the challenges facing students with disabilities in his institution. Prof. Kelly led a movement right from the beginning which developed into the founding of AHEAD and he remained central to the organisation as Chair of the Board of AHEAD until 2005. AHEAD have launched the John Kelly Award for Universal Design in Teaching and Learning in honour of his work in the field.
Prof. John Kelly with former AHEAD Executive Director Ann Heelan
About Prof. John Kelly and How it All Began
Prof. Kelly was Dean of Engineering, then Registrar at UCD. In his role as Registrar he saw the opportunity to create a support system for students with disabilities coming in to UCD. The Registrar's office provided a contact point. He was determined to use a very practical approach. A table in restaurant at UCD became meeting point for students with disabilities, which led to the formation of a Student Association at UCD. The UCD college society had a bench outside the porter's office with sign asking for anyone with a disability to join the society.
The UCD bench where UCD students with disabilities would meet and connect.
The Student Association provided a letter to all lecturers covering a range of impairments which the students coming into UCD might experience. Over time, the Student Association went national with NUI Galway, University College Cork, and Trinity College Dublin being early institutions to get involved in the 1990s.
Originally named National Association of Disabled Students in Higher Education, NADSHE, when Prof Kelly met with a representative from an American group (now AHEAD USA) in the late 1980's in Washington DC, who also had a different name at the time, they thought they could do better. Together they both agreed AHEAD was a better name. In Ireland, the change to the new name was made at the first or second AGM.
Student Elaine Howley in an interview for UCD Access Programme identified that in the 1980's
'No access programme existed, and no support was available for those with impaired vision, for example, recorded lectures, photocopying enlargements'.
Gerry Ellis a blind student was also involved, approaching Professor Kelly to say this was not good enough and that together, they should do something about it.
A physical access campaign started by the students after meeting with Professor Kelly. The Access Committee was set up by NADSHE in 1991, supported by UCD and grants for students from Higher Education Authority were negotiated by Registrar's office.
Interviewed recently for our AHEAD Start training programme, Professor Kelly said on AHEAD's more recent work:
'It's all gone extraordinarily well and the current team led by Ann Heelan have continued to expand AHEAD's influence'
Prof. John Kelly celebrates AHEAD's 30th birthday with the AHEAD team
AHEAD 1990 – 2000
The early nineties began in style for the organisation when in 1991, President of Ireland Mary Robinson presided over the inauguration of AHEAD as an incorporated not for profit body. This was closely followed by support from the Higher Education Authority (HEA) to create a national organisation
'To promote full access to and full participation in higher education by students with disabilities and enhance their employability on graduation'
This was followed by AHEAD engaging in a study on behalf of the HEA to look at 'Access and Participation of Students with Disabilities in Higher Education'. The committee report and recommendations were warmly welcomed and amongst these was the influential expectation for Higher Education Institutions to produce policy statements on disability, in particular with regard to exams and admissions.
In a landmark statement in 1994, the Minister's Fund for Students with Disabilities was introduced, providing access for colleges to fund supports for students. As the decade progressed more activities/actions to promote access and participation came with the release of publications for institutions and students, and AHEAD produced a newsletter, and later a website, where professionals and students could access a wealth of information. President Robinson continued to be supportive, launching two publications for AHEAD in 1997.
AHEAD was definitely ahead of the curve with the development of a highly innovative and accessible website which was started under the guidance of Alexis Donnelly, AHEAD Hon Sec. This innovation facilitated AHEAD to reach a much broader audience and to provide information in very different ways.
The mission of AHEAD was developed into three main areas of work:
Access
Participation
Graduate employment
The role of National and EU legislation enabled work to continue at a faster pace with the Universities Act 1997 enshrining equality of access.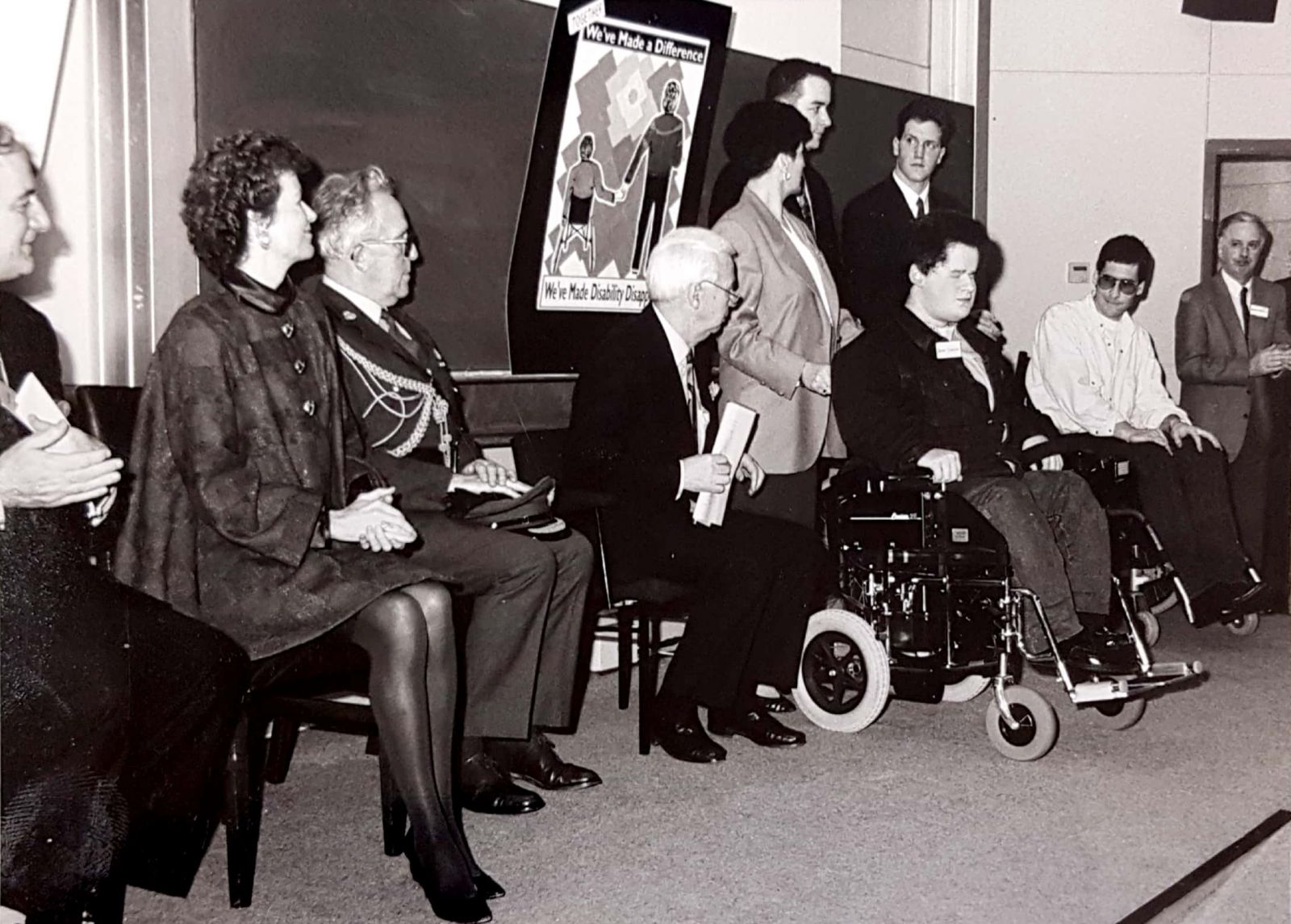 President Mary Robinson at the inauguration of AHEAD as an incorporated Not for Profit organisation
Collaboration in European projects offered opportunities to develop policy and practice on Dyslexia, support for graduates with disabilities to transition to work, and the importance of mobility and second chances in Adult Education.
At the end of decade came the implementation of the Employment Equality Act 1998, the first anti- discrimination legislation in Ireland to explicitly include disability as a ground for discrimination.
AHEAD was influential in bringing about change through a range of opportunities including engaging with the HEA report on access and equity in HE; HEA/AHEAD survey of disability at second level; report on AHEAD survey on provision in higher education and AHEAD's first statistical reports measuring the numbers of students with disabilities in the higher education system. Additionally, the report of the Commission on the Status of People with Disabilities, which AHEAD had been consulted on, recommended mainstreaming services for people with disabilities. All this momentum enabled the Board of AHEAD to develop a strategy for the future under the leadership of Professor Kelly.
2000 onwards
The passing of the landmark equality legislation the Equal Status Act 2000 covering access to goods and services included a strong focus on education and brought with it a host of new rights for students with disabilities. This led to AHEAD interpreting the effects of these changes for students and institutions with the publication of the 'Guide to the Equal Status Act 2000 – students with disabilities in Higher Education'. AHEAD produced a number of robust research reports in the early 2000's for example on Dyslexia in third-level education; a third-level survey for the HEA conducted by AHEAD and research focusing on improving the participation rate in Further Education.
A new and improved website for AHEAD was introduced to provide easy access to the most up to date information for students and families, schools, colleges, higher education institutions and guidance professionals. This website has continued to be updated and expanded, now also hosting the AHEADJournal (an e publication for practitioners), and an annual data analytics report on student participation and progression.
AHEAD's objectives for the early part of the 2000's were framed around:
Emphasis on access from second level
Collaborating with disability officers
Graduate employment
Support for students with disabilities from the Minister's Fund, initially distributed by AHEAD/the National Access Office/Department of Education was reviewed and more robust procedures were put in place, with better information provided for students and disability officers in institutions nationwide.
Evidence on students with specific learning difficulties (SPLD) was given to National Access Office (NAO) review (2005) looking at increased participation and AHEAD contributed on disability specific objectives to the National Access Office strategic plan.
During this decade, new legislation concerning equality continued to be passed including the Disability Act 2005; and Education for Children with Special Needs Act 2004.
AHEAD published 'The Disability Act 2005' a guide for students and staff with disabilities in higher education institutions' to make the implications of this new legislation easy to understand.
In 2006 Professor Brendan Goldsmith took over from Prof John Kelly as Chair of AHEAD Board.
Prof. Brendan Goldsmith opens the AHEAD Conference 2014
AHEAD was consistently engaging with the National Access Office, who as part of implementing the MacNamara report, recommended each university and institution to have minimum of one full time permanent post of Disability Officer.
The DARE scheme
In Ireland access to higher education is garnered through results in the highly competitive Leaving Certificate (LC) examination. This exam is text based and involves students undertaking intense hand written exams for many hours on end, and answering questions entirely from memory and knowledge. The LC has many well documented barriers for students with disabilities, and in 1998 AHEAD embarked on a European Horizon research project on Alternative Entry Schemes for students with disabilities. This led to the establishment of the Supplementary Entry Scheme in 2001 with the Irish Universities Association and the Disability Advisors Working Network (DAWN ), which recognised the discrimination and challenges faced by students with disabilities. This allowed students to gain access to courses of their choice below the standard entry points where the impact of their disability on their learning was significant. Later on this scheme evolved into the national DARE scheme - Disability Access Route to Education - which is now well-established in the mainstream under the auspices of the Irish Universities Association and is conducted as part of the general CAO admissions system.
In 2018 over 2,300 students with disabilities benefited from the DARE scheme
Get AHEAD
In 2005 Tina Lowe, a recent graduate approached AHEAD to support graduates with disabilities to get a foothold on the employment ladder. This conversation led to the establishment of the Get AHEAD student forum which was founded in 2005 at a major conference on Transition to Employment. This event brought major Irish employers and graduates with disabilities seeking employment at a graduate level together for round table discussions. The conference highlighted the need for communication and engagement between employers and graduates with disabilities and led ultimately to the establishment of the Get AHEAD Network. President of Ireland Mary McAleese gave the inaugural Get AHEAD lecture in 2007.
Picture of Tina Lowe with President Mary McAleese and AHEAD Staff at the Inaugural Get AHEAD Lecture
Get AHEAD now holds it's major Building the Future careers fair for people with disabilities annually in partnership with employers and supported by CITIBANK. Every year the attendance grows and the engagement with employers is strengthened. This fair has provided opportunities for over 60 employers to gain awareness and experience of interacting with graduates with disabilities by running CV clinics, hosting exhibition stands and undertaking mock interviews and gives graduates the opportunities to talk directly with employers about positions they are advertising, as well as gaining valuable skills and experience.
Two important research projects on the experiences of students were also carried out in this decade. Firstly, in 2008, Seeing AHEAD a study of factors affecting Blind and Vision Impaired students going on to higher education was released. This research showed that an inclusive second level education experience was rare , leading to the low participation by this cohort in higher education. A range of recommendations supported by the parents' organisation Féach was made to the Department of Education and Science (DES). This was influential in the decision by National Access Office to prioritise the participation of students with sensory disabilities in their National Access Plan.
Secondly in 2016 research was conducted on the experience of students with mental health difficulties in higher education, Mental Health MATTERS: Mapping Best Practices in Higher Education which recommended a whole college approach to include students with mental health matters, and that institutions establish specialised mental health services and provide training for academic and other staff.
The WAM Programme
Through participation in the European project EQUAL related to diversity awareness for employers, AHEAD was able to develop the WAM programme in partnership with leading Irish employers, to set up fully paid, mentored work placements at a graduate level for people with disabilities. The WAM programme began in 2005 and following an evaluation in 2011 has become mainstreamed and is funded by the department of Social Protection and Employment.
WAM has placed over 400 graduates with disabilities to date
77% of WAM placed graduates secured further employment as a direct result of their WAM experience
Later in the decade the LINK Network was established (EU funded 2008-2011) with AHEAD as the coordinating partner and continues to offer collaboration and the sharing of policy and practice across Europe to this day.
Moving on - 2013 - Present
AHEAD together with national policy organisations identified that the way forward was to develop a whole-college approach to inclusion and that the third-level sector would need to develop policy and practice on inclusion which would benefit all students. At a significant meeting which took place in Ghent, the UN Convention on the Rights of Persons with Disabilities (UNCRPD) was explored and it was agreed that inclusion in mainstream activities was a social inclusion goal. A memorandum on social inclusion was drafted and forwarded to the EU commission. This was inserted into the Bologna process in 2014 as an agreed goal of higher education across the EU. In line with this move, AHEAD launched the Charter for Inclusive Teaching and Learning as a directional guide for faculty in higher education on inclusive practice. A new policy direction was established towards Universal Design.
' But it's not all done yet!'
Shaping a future where students with disabilities can succeed
'As we look to and plan for the future, we do so against the backdrop of considerable change in higher education. More than ever before, there is now a greater emphasis on employment outcomes, a revolution in the application and use of technology, a greater understanding of learning and a growing diversity in the student population. Part of this combination is an ever-increasing number of students with disabilities, all of whom have expectations of qualifications and careers, just like any other student.'

Professor Brendan Goldsmith, Chair of AHEAD 2006– 2015 (Dublin Institute of Technology)
The recent AHEAD Strategic Plan was devised following consultation with a range of stakeholders including staff, the Board of Directors and external agencies. The vision includes:
To influence national policy to impact positively on the inclusion of students with disabilities in education and employment
To build relationships within the higher education sector to promote the integration of the principles of Universal Design for Learning in Education and Employment
The Board of AHEAD extends its appreciation and thanks to all who have supported this work.
"This drive by AHEAD to promote Universal Design for Learning is also influenced by its commitment to work collaboratively with its membership, partners and networks to support them to meet indicators of good practice."

Prof. Michael Shevlin, Current Chair of AHEAD and Professor of Education with TCD
Dr. Michael Shevlin, current Chair of AHEAD, opens the AHEAD Conference 2017
The numbers of students with disabilities in higher education in Ireland have increased year on year over the last decade and they now represent over 6% of the student population - more 12,000 students. In parallel the Disability Officers working within the sector have developed support services and national standards on assessment, examinations and the provision of supports. However while inclusion has been successful, so far the model of inclusion has been built on an add-on model of supports. The move towards Universal Design has influenced change in the sector, leading to the need to examine it's impact and lay out a vision for the future. As a result, AHEAD and DAWN have recently collaborated on the Road Map for Inclusive Education - a series of outputs that do exactly that.
As we move towards a whole-college approach to including students with disabilities, AHEAD are increasingly engaging with teaching and learning staff and other parts of the HEI ecosystem. Our digital badge for Universal Design in Teaching and Learning seeks to get faculty staff to examine their practice through a UDL lens and make real changes that can impact positively on the classroom experiences of students with disabilities.
The future is exciting for AHEAD as we continue to engage with an increasing range of stakeholders to shape a future where students with disabilities can succeed.
---
This history document was put together by Barbara Waters of behalf of AHEAD. If you have information about the history of AHEAD that we may not know, please get in touch to share it with us.
For more about information about the work of AHEAD, please watch the video below: