University College Dublin Develops a 'Bridge' with a New Access and Lifelong Learning Centre
University College Dublin's new Access & Lifelong Learning Centre (ALL), offers a state of the art facility, designed as a 'bridge to the university' for students from a diverse range of backgrounds and circumstances. The new centre is located in the James Joyce Library Building. This highly visible position in the main student thoroughfare signals the importance the university attaches to widening participation and student diversity. The Centre showcases Universal Design in practice and its design, layout, features and facilities are intended to be a reference point for future campus development projects and was designed by Lawrence and Long Architects in collaboration with UCD Buildings & Services.
The ALL Centre takes its inspiration from the late Ronald Mace, the renowned architect who challenged the prevailing view of design, which assumed a 'typical' or 'average' user and discounted those not considered as 'normal'. Mace's concept of Universal Design focuses on designing for all people, which means designing buildings, products and services to be usable to the greatest extent possible by everyone, regardless of their age, ability, or status in life (Mace 1998). The resulting design clearly demonstrates the realisation of this concept in this wonderful, bright and welcoming facility.
Over many decades, enthusiastic and committed staff members have developed a comprehensive suite of specialised services and supports to enable a diverse range of students to enter and participate in the university. A wide range of pre-entry initiatives is available, such as supplementary and alternative admissions routes, including HEAR (Higher Education Access Route), DARE (Disability Access Route to Education), Mature Years, as well as Open Learning, which is developing pathways to part-time undergraduate education. A programme of work to ensure ease of access to campus buildings and facilities is also underway. The ALL Centre reaches out to the wider community through a wide range of initiatives, including Future You, which offers a mentoring and academic support programme to DEIS schools, and Mature Years' Access courses that, on completion, guarantee access to undergraduate study in UCD.
For learners who long to continue their development, we offer numerous lifelong learning opportunities, some of which are offered in partnership with cultural institutions. Ensuring the students' transition and participation in university life is critical and our approach includes offering needs assessments, specialised guidance, learning, technology and financial supports. We also ensure that students are linked to the university's extensive range of academic and personal services.
A critical aspect of our work is the promotion of mainstreaming and inclusion through Universal Design. This involves working with academic and professional colleagues to design programmes, policies and services, for use to the greatest extent possible by everyone, regardless of their age, ability, or status in life.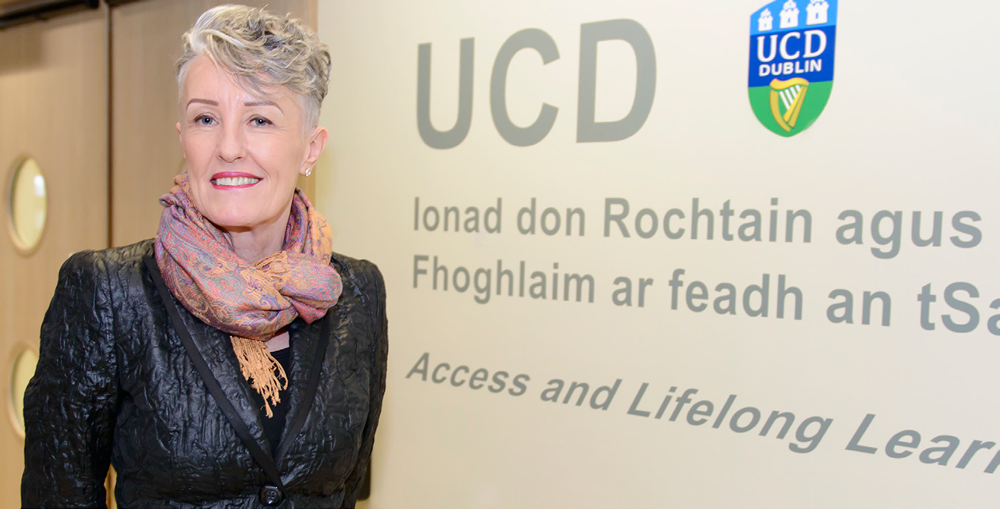 Over the coming months and years, the UCD Access & Lifelong Learning Centre will further develop the concept of the 'bridge to the university', drawing on inspiration from the work of Ronald Mace to inform and shape our services and approach. Applying the principles of Universal Design to our services in the ALL Centre, offers us a new narrative and opportunities to re-imagine and see our students through a different lens. Were we to view the so-called 'non-traditional' student not according to her equality category, but rather through the lens of service user, what would the service design implications be? How would our services differ? Are there similarities in student needs regardless of equality category? Do some students from diverse backgrounds need particular supports delivered in a particular way?
UCD has a long tradition of extending education opportunities dating back to Newman: building on this work, we are endeavouring to re-imagine the future. We have begun this next chapter in our journey of discovery and enhancement in a wonderful new facility: it will surely serve to inspire, enthuse and challenge.
Excerpt from a presentation made by Ronald L. Mace, FAIA, at 'Designing for the 21st Century: An International Conference on Universal Design, June 19, 1998, Hofstra University, Hempstead, New York.